Stealing Faces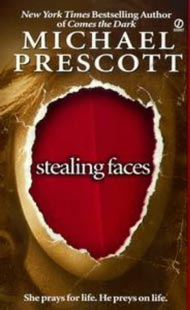 SHE IS WATCHING HIM... Without mercy, Kaylie McMillan is stalking her prey. She watches every move he makes. She knows everything he has done--everything he is capable of doing...and will do again. For he and Kaylie share a past. Every scream of it still echoes in her nightmares.
HE IS WATCHING HER... John Cray is a brilliant and ingenious master of deception driven by a single terrifying obsession: to expose the true nature of a woman's soul--by removing the mask that conceals it. His newest victim is a woman of many disguises. But none of them will protect her. For she has willingly stepped into the darkness of Cray's shadow. And tonight, when the line between hunter and prey is crossed, the game will begin....
Nostromo Films has acquired the motion picture rights to NY Times Best Selling author Michael Prescott's STEALING FACES. The book has been adapted for the screen by Claire-Dee Lim.
CLAIRE-DEE LIM - Writer
Claire-Dee Lim began her production career after graduating from UCLA's film school with a Masters of Fine Arts in Motion Picture/Television Production. She has worked as an industrial multimedia producer and director, and has written and directed her own independent films. Currently, Ms. Lim has written an original screenplay "Rexxx the Firehouse Wonder Dog" for New Regency Productions. Director Todd Holland and producers Mike Werb and Michael Colleary are attached.